She's been writing all morning.  She has a story niggling at the back of her curly head . . . Something about knee caps and shards of broken glass . . . a re-imagining of another (true, sad, painful, personal) story she heard once before.  A story told, in hushed confidence, by someone she dearly loved and sorely misses.  And though her heavy paw has hovered above the keyboard since she rose this morning, she cannot compose that first sentence.
She experiments with different styles; stream of consciousness, prose, iambic pentameter, free-verse … she tries a haiku.  Delete, delete, delete them all.  She grunts and closes her eyes for a minute.  She runs downstairs for her kitty-cat egg timer.  She sets it for five minutes and free-writes.  Here is what she comes up with: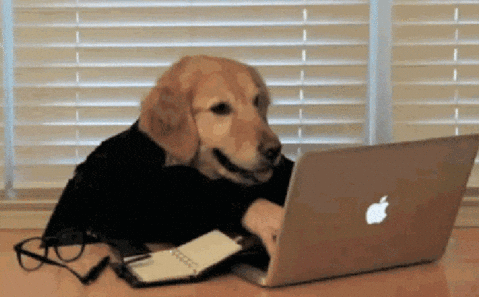 I'madogwhocan'tsit still.  There's a cat onmywindowsill.  Mommytookasleeping pill. Here is the page that I must fill.   Look! I found the space bar! I should be out chasing a car.  Broken glass Broken glass.  The ginger cat fell on his ass.  Broken glass.  Knee caps. Stop gaps.  Thin skin.  Embedded shards.  Permanent scars.  Symbols.  The dance of veils as  shards emerge through the years each representing a time and place locked away in her head.  It's out. It's examined.  It's remembered, re-membered, removed and moved to that other place.  each time another shard, another moment.  a betrayal an argument a loss a replacement and she grows and grows and grows.  Like a puppy.  a Brown puppy. I was a brown puppy.  I'm getting off track. what about the glass?  the knee cap?  How did it happen. can women fly?  time does not.  How many minutes left.  Done.
She yawns and shakes out her curls.  The dark haired poet looks over what she's written.  Perhaps a short nap, a ride in the car, a romp in the park, a poop on the grass will bring the story closer.  With her fat paw-pad, she presses 'save', then shuts down the computer.  She completes three circles at the foot of the bed and lies down.  Shiny shards of broken glass dancing inside her curly, dreaming head.